Our First Backpacking Trip
My husband and I recently completed a three day, two night backpacking trip. We hiked a little over 35 miles and learned a ton along the way. I wanted to post this for people interesting in our trip or just backpacking in general. I give detailed lists of what we brought as well as different tips to help you be successful. If you're just interesting in our trip, enjoy the pictures and catch the blurb at the end. Thanks for reading!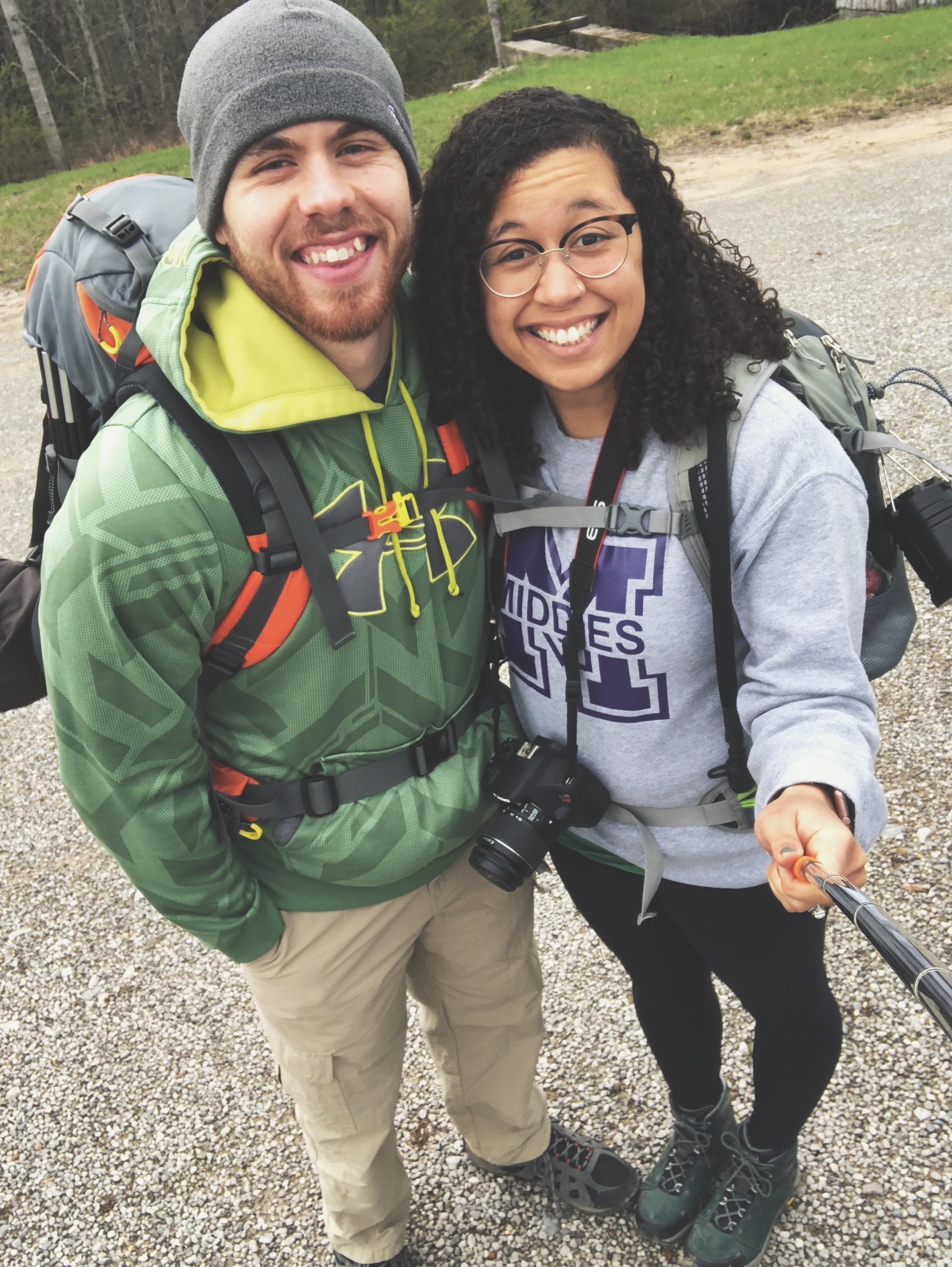 Where we went:
We chose to hike at Fall Creek Falls in Spencer, TN. This was the bet option for us in terms of weather, length and our desire for a continuous loop as opposed to an out and back. This trail was rated at moderate to difficult but being naive twenty-somethings, we went for it anyway.
What we packed:
This is the biggest misunderstanding that we have run into as we have explained our trip. Unlike hiking, backpacking means you are sleeping on the trail and you have packed everything that you will need in the pack on your back. I carried a 22 liter bag and my husbands was 45 plus 5. My bag weighed 20 lbs and my husbands was just under 30 lbs. It was heavy! The first hour of our trip I wasn't sure I was going to be able to continue but over time my body was able to adjust and we pressed on.
In my backpack I carried:
My clothing

1 pair of sweat pants
1 sweat shirt
3 pairs of underwear
1 rain jacket
1 pair of socks
gloves

lunch and snacks foods (I'll get to that in a second)
3 liters of water in a bladder bag
A sleeping bag
2 lanterns
Selfie Stick and button (so important)
In my husbands backpack
His clothing

1 pair of sweat pants
1 thermal to sleep in
Rain jacket
2 pairs of socks
2 pairs of compression shorts
hat and gloves

Dinner and breakfast (see below)
Cookware and silverware
Stove and fuel
Sleeping bag
Books that we never read
Water filter
First Aid kit
My She Wee (More on this later. Could not recommend this more!)
Toilet paper
Our tent and poles
When it comes to what to pack less is more. I really wish we hadn't brought books just because it was another thing to carry and pack and unpack every day when we set up camp. I chose to wear leggings and a tshirt for our trip and I was so happy with that decision. The temperature ranged between 42 at night and 55 during the day, COLD! But once we started moving I became so hot. I was happy I dressed in layers that were easy to transition between.
Meals:
Meal prep was another thing we were unsure about. My husband received a backpacking stove and fuel canister for Christmas and it was perfect. We heated up dinners on it as well as boiled water for breakfast. We only used one canister and had plenty of fuel to do what we needed and some left over. We found fork, spoon, knife combo sets at Target that were great! They are bright colored so they were easy to find in our bag or on the ground and they were a good firm material. We got our pan set off of Amazon and in hinesight we could have done with a bit less. Ours came with a ladle, loofah, and two bowls. The bowls were small so not much fit in them. We ended up just eating out of the pan we used to cook the food and sharing it that way.
We're vegans so finding things to eat on the trail was a little tricky. All the resources on google and Pinterest didn't cater to our specific needs. We were a bit creative and admittedly didn't eat enough calories but we survived!
For breakfast we had planned on eating oatmeal but ended up eating the cliff bars we had planned for lunch. It was hard to be motivated that early in the morning to heat up water so we just grabbed a bar to eat and started packing up for that days hike. Lunch was a combo of nuts and fruit and sometimes another cliff bar and then for dinner we had rice and a veggie blend. This worked for us. We weren't ever hungry and the snacks were easy to eat and keep moving.
6 cliff bars EACH (We thought we were being a bit ridiculous but we ate all of them!)
6 apples
20 packs of oatmeal (We did not need this many! I think we ate 4 each, mostly after dinner)
1 can of smoked almonds
1 bag of cashews
2 bags of trail mix
6 little cups of peanut butter we stole from our hotel before our trip. Thanks Hilton!
2 cups of cooked rice
3 cups of veggie mix to go over rice
And that's it! I carried three liters of water that lasted us about 24 hours. We certainly should have drank more but clean water was not available to us and filtering water took up daylight so we tried to conserve as much as possible.
There are so many more stories I could share about this trip like Chris barefoot mile, or the two times I thought death was upon us but I'll save those stories for some dinner party in the future. If you have questions or tips you have learned from backpacking please feel free to leave them in the comments below! As crazy as our trip was I loved every secluded second with my husband. It was amazing to push our bodies and disconnect from society for a bit.
I left this experience stronger, more grounded and with a better understanding of my place in creation. I'm so thankful for a husband who craves adventure and for my courage to say yes.